REAL ESTATE SOLUTIONS FOR ALL
Spinway Homes is a small boutique Real Estate company located in the Dallas/Fort Worth area serving anyone from local residents, first time home buyers, to those relocating to and from the area. We assist our clients with all their Residential Real Estate needs, including buying, selling, investing, and leasing. We know how, and where, to locate the perfect properties, and negotiate the best deals for our clients.
Here at Spinway Homes, we understand that the home buying/selling process can be intimidating and seem overwhelming at times. We believe it's more than a home. It's your life, and often one of the greatest financial investments you'll ever make. That's why we work hard to always been positive and professional, putting our client's needs first. Over 80% of Spinway Homes overall business is generated from referrals, or previous clients. Without this repeat and referral business, Spinway Homes would not exist today!
Spinway Homes also has experience in Commercial property leasing, and are able to support the leasing needs of business operators, whether it be retail, office, or industrial.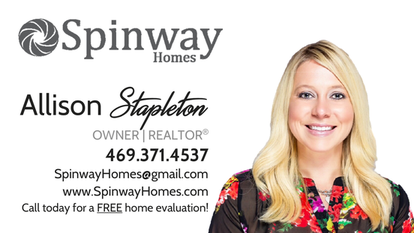 Allison Stapleton is a native Texan, born in Austin, grew up in Plano. She graduated from Southern Methodist University in 2009 with a Bachelor's degree in Real Estate Finance, with a Minor in Economics. Her Real Estate career began in March 2009 when she joined Twinrose Investments managing various commercial properties, such as Hillside Village Shopping Center, 2555 & 2611 Regent Blvd, and 152-160 Continental Ave. In April 2011, Allison teamed up with seven different dog adoption centers, including Operation Kindness, Dallas Animal Services, Metroplex Mutts, DFW Rescue Me and coordinated a dog adoption event at the Hillside Village Shopping Center. During the 4-hour event, 17 dogs were adopted and over $1,100 was raised for the White Rock Lake Dog Park!
In June 2011, Allison decided to further Real Estate career and joined the Cushman & Wakefield team (formerly known as DTZ, formerly known as Cassidy Turley) managing commercial properties, which included Mockingbird Station, Greenhill Park, Sherry Lane Place, Park Center, Dallas DEA Office, and the Dallas DEA Lab. In October 2011, Allison was nominated for the Outstanding New Member Award at CREW (Commercial Real Estate for Women) for her assistance in obtaining sponsorships, players, player gifts, and silent auction donations for the annual CREW Classic golf tournament.
Allison obtained her license and started selling Real Estate in March 2014. She quickly realized that Residential Real Estate was her passion and knew that joining Keller Williams Realty, one of the world's leading Real Estate agencies, was the best place for her to increase her knowledge and experience in the residential community.
In her past time, Allison enjoys spending time with her family, watching the Texas Rangers with her fiancé Michael, playing with her Boxer dog named Daisy and Great Dane puppy named Biscuits, running and training for half-marathons, and traveling the world.